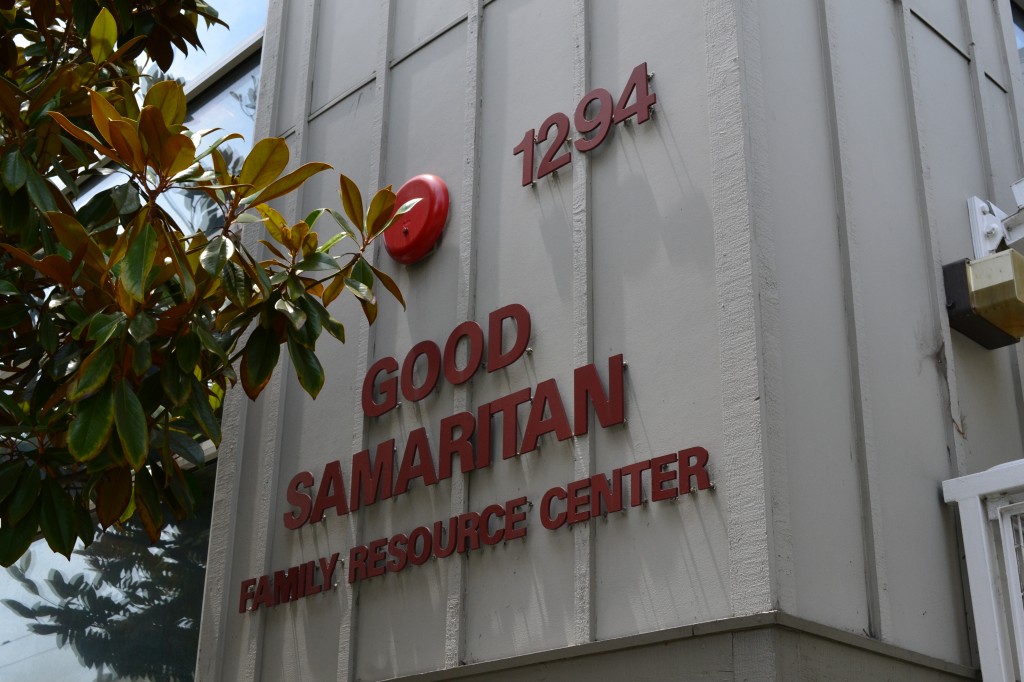 Good Samaritan Family Resource Center believes that strong families are vital to raising children who are happy, healthy, and productive. Good Samaritan comprehensively addresses the needs of low-income Latino immigrant families through a Two-Generation Strategy that involves children and their parents/caregivers. Our services ensure that children have access to the educational and development opportunities they deserve to succeed in life, and equip parents with the confidence, knowledge, and tools to support their children's success. We foster community connections, help participants to develop English language and parenting skills, and build a foundation for creating resilient and self-sufficient families.
Early Childhood Development
Since 1996, Good Samaritan has operated a successful licensed Child Development Center, a year-round program that delivers bilingual childcare services to 36 children ages 2½ to 5 years. Designed to develop social, emotional, physical, and cognitive skills, our CDC prepares children for a confident and smooth transition to Kindergarten. The CDC utilizes the Creative Curriculum for Preschool and Teaching Pyramid, and offers activities in eleven areas of development for children. Our program has been recognized as a model provider by the Mimi and Peter Haas Fund, the Children's Council, the San Francisco Department of Children Youth and Their Families, and First Five San Francisco.
Youth Development Services
Good Samaritan provides vulnerable newcomer youth growing up in inner city environments with the tools to significantly increase their engagement in school, and involves these young people in out-of-school settings that broaden their horizons enormously. Immigrant and first-generation youth practice life skills, learn healthy activities and behaviors, and promote these practices among their peers. Offered in partnership with families, schools, and other providers, services include afterschool activities and school-based services, and summer programs. Together, this programming supports the social, physical and emotional development of youth while promoting academic success.
Adult Education and Family Strengthening
A full array of support services helps families build parenting and life skills within a new cultural framework. Services include parenting groups, prenatal wellness support, maternal depression groups, and case management. One of our most popular services, Good Samaritan's two levels of English as a Second Language (ESL) instruction build the self-sufficiency of adults and their ability to participate in their children's education. Also, working in partnership with Planned Parenthood , Good Samaritan's on-site clinic provides family planning services to medically uninsured adults and teens, receiving more than 1,200 visits per year.
How are we making a Difference Today?
Good Samaritan is committed to using evidence-based tools and metrics to measure program outcomes and ensure that services effectively address the needs of clients. Given the varied nature of our work and services, different data tracking strategies and evaluative tools are utilized by each program. For example:
Child Development programs track attendance and support services accessed by parents, and also administers and analyzes a parent survey at the end of each semester to document and evaluate changes in children's behavior. In addition, staff are trained to administer screenings, such as the Ages and Stages Questionnaire, the Parental Stress Index, and the Edinburgh Depression Scale, to identify children with developmental concerns and parents at risk of depression and high levels of stress. Results of parent surveys are analyzed at the end of each series of classes or workshops to assess their usefulness and effectiveness.
ESL participants complete pre-tests and post-tests at the beginning and end of each semester, including the standardized CASAS test and an internally designed performance-based assessment approved by the California Department of Education. Student-teacher conferences at the end of each semester provide students with individualized information about their performance and help them understand the educational process. Good Samaritan also surveys students to determine the qualitative ways in which literacy adds to their lives and to obtain information about their future plans for adult education and civic engagement.
Our Family Strengthening Services rely on tools such as the Parenting Scale (pre- and post-test tool used to measure parental behavioral change as related to child abuse or neglect); Eyberg Child Behavioral Inventory (parent rating scale to assess child behavior); and Key to Interactive Parenting Scale (observational tool to assess the quality of parenting behavior).