GOOD SAMARITAN IS GETTING THINGS DONE!
Immigrants, parents, children, teens, and educators count on us everyday to provide bilingual emergency services and a continuum of support.
We're on a mission to improve lives in unequal San Francisco.
NEW Community Hub: Services & Support for Low-Income Students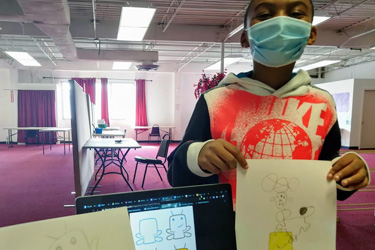 During the Covid-19 pandemic, Good Samaritan has launched an "in-person" site, a Community Hub, where public school children in the Bayview/Hunter's Point neighborhood can come all-day for tutoring, healthy meals, computer access (for schoolwork), peer interaction, and mentoring. It's a solution for low-income families facing challenges helping their children participate in school remotely.
We're 95% of the Way to Our Funding Goal to Expand our Affordable Preschool!

"There are a dearth of affordable preschools in San Francisco, largely due to the high cost of commercial real estate," says Good Samaritan's Executive Director Mario Paz. "Good Samaritan owns the building where our current low-cost preschool sits. However, we can only serve 32 students here at a time. We have long wanted to expand, but did not have a cost-effective opportunity—until now."
Our COVID-19 Immigrant Family Relief Fund is in high-demand

Good Samaritan is grateful to the hundreds of donors who have stepped up to protect immigrant families during San Francisco's COVID-19 crisis. Since March 2020, hundreds of families in our network have lost income during the recession. Good Samaritan has been able to provide 500 families with food, rental assistance, or diapers. However, hundreds more are on our waitlists.
Success Stories
Meet our participants and read more about our impact.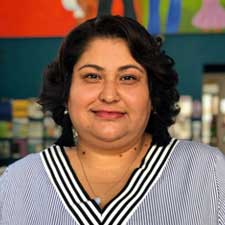 As an immigrant mother who struggled to raise her son in an abusive relationship, Erika Delgadillo-Anaya says:
"I am so grateful that I found Good Samaritan 16 years ago. The parent support groups and the women I met there helped me find the strength to leave my situation with my young son. Later, even as a single mom on a tight budget, Good Sam helped me enroll my son in preschool and then in its afterschool program, Vision Academy. My son and I both found a lot of encouragement at Good Sam."
Fifteen years later, Erika is proud to report that she now works for the organization as a Family Advocate, helping Latina moms in the Mission District improve their prospects. Remarried, she lives with her loving partner, is about to see off her first-born son go to college, and is raising twin seven year-old boys. She says, "I am most proud of what my husband and I have been able to offer to our three children: hopefulness for the future."
– Erika Delgadillo-Anaya, Good Samaritan alumna-turned-employee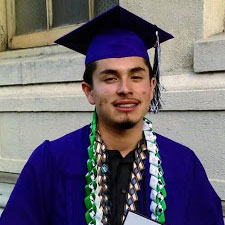 William, 18, first came to Good Samaritan as a three year old. His Spanish-speaking mom brought him to Good Samaritan's weekly, bilingual parent-child interactive classes, and later enrolled him in Good Samaritan's dual-language Child Development Center.
William says his mom likes to tell a story about his first day of kindergarten. He proudly came home, announcing "I am one of the only kids in class who can find my own name on the class list! It's fun to know how to read!"
Today, when he asks his mom how he learned to read and write, she tells him:
"Good Samaritan taught me the importance of reading to you regularly, how to follow your lead when you wanted to play, and how to encourage your curiosity. They taught me about the importance of preschool. Your preschool teacher there taught you the basics and made learning fun."
William graduated from high school this year, and will be attending UC Merced. He will be the first in his family to go to college.
– William Orozco, Good Samaritan alumnus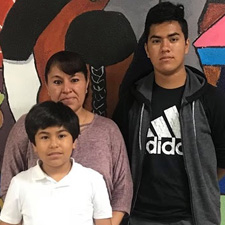 Originally from Mexico City, Angelica has lived in San Francisco 19 years. While she primarily speaks Spanish, she encourages her sons to excel in both English and Spanish:
"I appreciate that Good Samaritan has helped my sons feel good about school. My hopes for my children are coming true: my eldest son, José, is at Galileo High School, and he wants to go to college to study computer science. Good Samaritan has helped him over the years. First, he went to the Child Development Center. Later, I enrolled him in the Vision Academy because it offered after school chess instruction and daily tutoring. I noticed right away a difference in José: his English improved both verbally and grammatically, and his grades went up. He became more confident at school.
Now, my youngest son, Angel, a third grader, goes to Vision Academy. He is good at math, enjoys it, and appreciates having mentors who encourage him to keep at it.
I am thankful to donors who support the Vision Academy for helping my kids improve their chances academically. I hope the program never ends."
– Angelica Castellanos, Parent of an alumnus and a current participant