GOOD SAMARITAN IS GETTING THINGS DONE!
Immigrants, parents, children, teens, and educators count on us everyday to provide bilingual emergency services and a continuum of support.
We're on a mission to improve lives in unequal San Francisco.
Join us for The Week of the Young Child

During the first week of April, Good Sam will host celebrations to highlight the importance of early childhood programs and services.  Join us for a series of fun FREE family-friendly events in the Mission & Bayview this month..
Visit Our New Dual Language Preschool!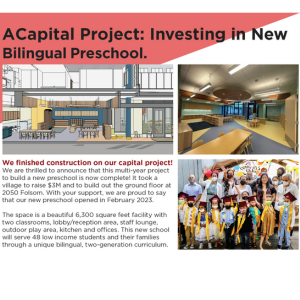 We are thrilled to announce that this multi-year project to build a new preschool is now complete! The space is a beautiful 6,300 square feet facility with two classrooms, lobby/reception area, staff lounge, outdoor play area, kitchen and offices. This new school will serve 48 low income students and their families through a uniques dual language, two generation curriculum. Come to our Open House on April 22 from 10:30am-12:30pm.  Meet other families and bring your children to play!
They are our future!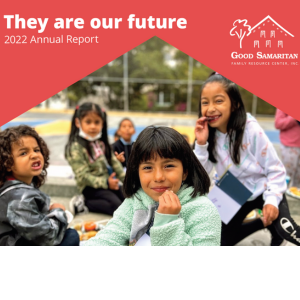 We believe that children are our future. For 128 years, we have provided immigrants, children, families and seniors with opportunities to prosper and build a better future. This year, thousands of people came to us to build knowledge, skills and confidence. From free preschool to ESL classes, we stand with our community when life gets tumultuous. We invest in our children and families, we make sure that our community has a chance to succeed. We invite you to read about the highlights from this past year and to remember:  This is what it looks like to invest in our collective future.
Success Stories
Meet our participants and read more about our impact.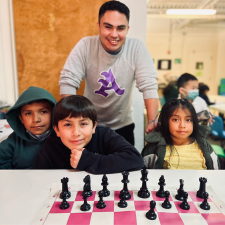 Oscar Is Going to College!
Raised in the Mission, Oscar wasn't always sure college was in his future. Good Samaritan's after school programs helped him successfully get into Archbishop Riordan High School. Today, he's a senior learning engineering and plays in the Chess club.
"I needed someplace after school that was safe," says mom Liz. "Good Samaritan would pick him up from school while I was at work. He got help with his homework and learned to play Chess. Look at him now, he's going places."
This year, Oscar worked hard to apply to 10 colleges. He flew out to Amherst College in Massachusetts (a college with a 7% acceptance rate) and knew instantly it was the right fit for him.  Last December, he got the offer he was waiting for. He'll be attending Amherst College in the fall of 2023 on a partial scholarship. As he finishes up his senior year, Oscar is giving back to Good Samaritan by returning to where he started. He's teaching a new generation of students how to play chess.
Bilingual Education Connects Kids To Their Heritage!
Aurelia's mom was worried during the pandemic when her daughter's language and social skills were falling behind. She had trouble making friends when she first started at our Childhood Development Center.
With the help of her teachers, she started thriving. Her mom Rosaura feels fortunate that her child has access to a free and high quality preschool.
"I love how the teachers engage with their students both in English and in Spanish," she says.
Today, Aurelia continues to develop new friendships while learning both English and Spanish. She's getting ready for kindergarten while staying connected to her community and culture.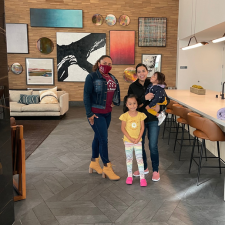 A Safe Place to Live!
Roccio remembers the day she found out she won the lottery: it was March 17, 2022. Her family would finally have a safe place to live. San Francisco's housing crisis makes it nearly impossible for families who work in low-wage jobs to find a place to live.  Applying for affordable housing units in San Francisco is not easy. There aren't enough units, and the paperwork is intense. Roccio was determined.The living conditions around her previous apartment weren't safe for her little girls, Alena and Victoria. They spent much of their time indoors, as there wasn't a place outside for them to run and play.
Roccio and her husband worked with a Promotora to apply for the city's lottery. It took weeks to fill out the forms and assemble financial information. Then, they waited. Her husband continued working at his two jobs, while Roccio took care of the children and worked on her English fluency in ESL classes. Nearly a year later, the phone rang: they got the apartment on Bryant Street. They needed to pull together a deposit of $1,000, and fast. Because of donors like you, Good Samaritan was able to provide them with a deposit to sign their new lease. In April of 2022, they moved into a brand new apartment and baby Sophia was born 14 days later. There's a rooftop garden where the kids can run and play. There are even co-working spaces and a gym to stay healthy.