Summer Matters: A Time to expand and grow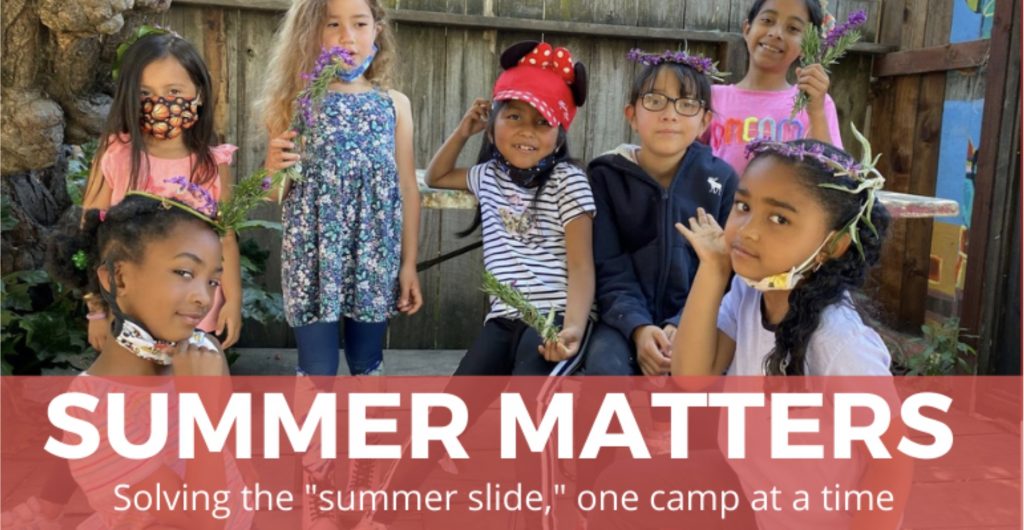 Do you remember how excited you felt when the bell rang on the last day of school?

School can be hard work, and many of our students are worried about their health, stressed about COVID or trying to catch up from distance learning. During the summer, kids head outdoors to run, play and explore. Yet for many of Good Samaritan's students, summer can also be a difficult time. When you have a language barrier you are working to overcome and your family can't afford summer programming, many students end up feeling isolated and losing academic progress.
We hope you'll join us in fighting the "Summer Slide" by helping to host 5 free camps this summer — from gardening to academic support to programming designed for teens. With caring and skilled counselors, we can help our youth succeed and build belonging among their peers.
Mission Mapaches camp (High School). This Spanish language day camp in the Mission is designed for older youth between the ages of 11-14. 15 young people explore San Francisco and Northern California through hiking, biking, camping, using public transportation and vans.
Soccer camp (La Raza Park and James Rolph Jr Playground). This is a high quality, Spanish language day camp for 15 students over the course of 7 weeks. Campers, between the ages of 6-10, learn soccer in an outdoor setting and develop life skills by playing a team sport. This camp is designed to provide an outdoor experiential education that helps participants develop positive self-esteem, healthy relationships, a sense of belonging, and a positive bi-cultural identity.
Jardin Secreto (The Secret Garden on 23rd and Harrison). For 18 students between the ages of 6-10 years of age, the Secret Garden SummerProgram provides a high quality, bilingual day camp that focuses on gardening, harvesting, cooking, and creating art and theater. Campers develop life skills by working together and host an end of camp performance and family dinner. Campers gain an opportunity to heal trauma and anxiety through an educational experience outdoors in a safe and beautiful space.
Vision Academy Summer Camp (Calvary Hill Community Church, Bayview). For 50 students K-8, Vision Academy Summer Camp in the Bayview provides a robust STEAM-activity focused camp for African American and Latinx youth focused on outdoor play, chess, coding, art clubs, summer reading, and field trips. This camp strives to improve the lives of young people by deploying results-based practices that boost engagement, achievement and personal growth.
Willie Brown Summer Camp (Willie Brown Middle School, Bayview). 115 San Francisco youth in the Bayview in grades 5th-9th are attending this dynamic and wraparound summer program with an emphasis on social-emotional growth and academic enrichment. Students join a robust program that includes community building, academic support, behavioral health and wellness, and field trips. With SFUSD teachers and trained counselors on site, we're making sure this important community and cultural hub stays open for students in the Bayview throughout the summer.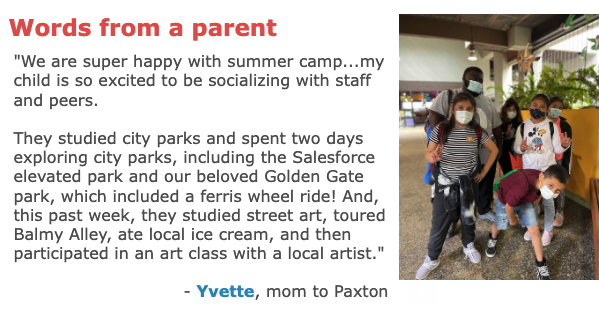 Will you support free camps this summer and stop the "summer slide"?