Learn How Good Samaritan is helping families deal with the City's affordability crisis.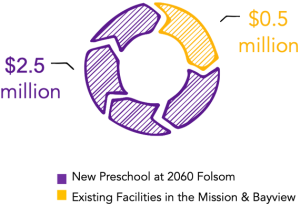 "There are a dearth of affordable preschools in San Francisco, largely due to the high cost of commercial real estate," says Executive Director Mario Paz. "Good Samaritan owns the building where our current low-cost preschool sits. However, we can only serve 32 students here at a time. We have long wanted to expand, but did not have a cost-effective opportunity—until now."
Casa Adelante, currently under construction at 2060 Folsom Street, will provide 127 permanently affordable apartments for low-income residents. Also, developers have invited Good Samaritan to open an on-site preschool on the ground floor.
Paz adds: "Good Samaritan secured 'Below Market Rate' rent from non-profit developers MEDA and Chinatown CDC: our new school will pay only $1/year for a 35-year term. Still, there is more to do before we can open our doors, and we are asking everyday people and philanthropists alike to help us."
Good Samaritan is currently aiming to raise funds to design and furnish the inside of this preschool and equip its outdoor play space so it can meet the state's licensing requirements.
At the recent groundbreaking for the new project, Supervisor Hillary Ronen said: "This is such a special day, and I celebrate with my Mission community. It took hard work and imagination to turn what was once a city-owned parking lot into what is now the beautiful In Chan Kajaal playground and soon to be affordable homes and a new preschool. Viva Casa Adelante—2060 Folsom St!"
Please consider donating to Good Samaritan today.
You can ensure 78 families a year for decades to come can enroll their children in our preschool and access our "whole family" services, meant to help low-income families boost their future chances.